YELLOWSTONE HORSE
A resource for the Greater Yellowstone
horse community
A visitor's guide to everything "horse" in and around
Yellowstone National Park
SHARE YOUR BUSINESS CARD | $9.60 / MONTH for print & web
Join the Yellowstone Horse community.
Yellowstone Horse – Print Magazine with Business Card Directory
Interviews, informative and entertaining articles published in a full color magazine, three times a year.
A business card directory is included for a handy reference to horse-related businesses, products and services in and around the Greater Yellowstone area.
Online Business Directory
Advertise your business and find businesses that you need!
Classifieds for the Greater Yellowstone Area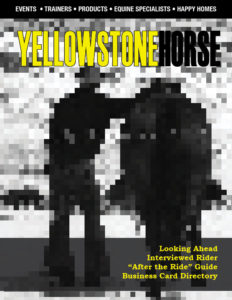 Contact Us to Add Your Business
Pricing starts at $9.60 / month for web and color print business card ad.
Thank you for your inquiry! We will send you directions for sharing your color business card for print & online and a payment link as well as other information about Yellowstone Horse and National Park Horse publications.